elrow Is Back In NYC This Saturday!
 All of the friendly space aliens encourage you to abandon your inhibitions, discover new experiences and get lost in a magical moment that will be talked about long after the party has ended. On Saturday, Dec. 11, elrow returns to New York City for an amazing evening of music, dance and costumes! This year's event is taking place at Avant Gardner, 5PM – 6AM!
What is elrow?
elrow was conceived in 2010 by Cruz and Juan Arnau Lasierra, the sixth generation of entrepreneurs of the Arnau Family, who also founded the Monegros Festival and the legendary Club Florida 135 in Fraga, Aragón. In 2017, elrow entered into an investment and partnership agreement with Superstruct Entertainment, a live entertainment platform backed by Providence Equity Partners. elrow is the umbrella brand of a series of fully immersive, themed shows, which have become a global point of reference in the field of circus-inspired parties thanks to its perfect mix of the best electronic music with unimaginable scenarios, frenzied performances and outlandish characters. Hailed as the number one party in Ibiza, elrow also holds lauded residencies in Madrid, London, Dubai and Amsterdam.
What is this year's theme?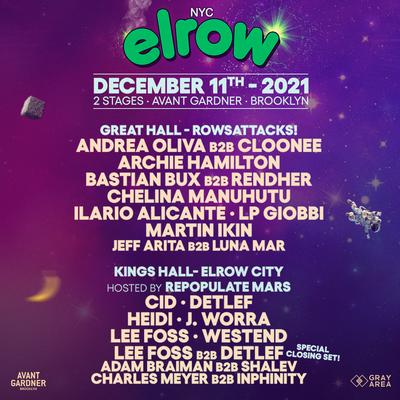 The global immersive roaming party purveyor elrow makes its triumphant return landing on planet Earth! And as if their events weren't otherworldly enough, elrow is debuting "RowsAttacks!" an in-demand sci-fi pop-culture-themed party. With all the UFO and space alien sightings and William Shatner blasting off to the moon, elrow's futuristic outer space theme is truly on point!
What will we see at elrow?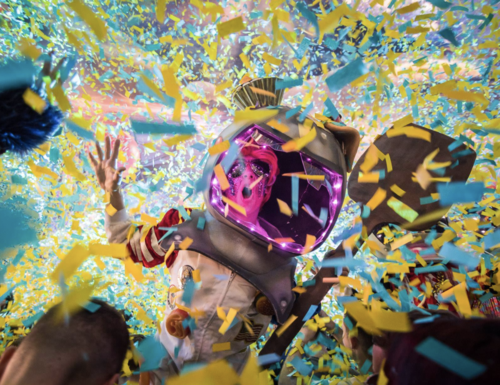 Adding elements of a theatrical show drawn into the surreal that attracts theatergoers, art lovers and fashionistas, elrow pairs elaborate production and interactive mad-cap character performers with over-the-top themes in a circus-like atmosphere featuring gigantic larger than life art installations. The collective behind this magical and fantasy-like collaboration are a group of creatives who propose new scenarios for you to play, feel and participate in music and art. elrow is regarded as one of the most thought-provoking and innovative entertainment companies in the world due to their unique ethos and philosophy that puts the attendee at the center of the show.
Whether you're searching for the perfect blend of art with the trendiest DJs from around the globe or looking to entertain your out-of-town friends in NYC pre-holiday season, "RowsAttacks!" is a space adventure for all. elrow is the party your friends will thank you for beaming them up to.
Where is elrow taking place in NYC?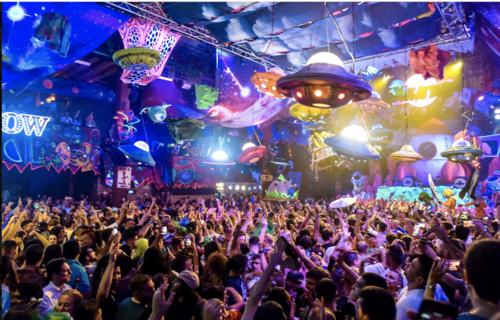 elrow is back at its New York home Avant Gardner, taking over two stages for a mothership's worth of partying are Grammy Award-winner CID, Jackathon party curator Heidi, Barcelona's Rendher and Andrea Oliva.  Piano house diva LP Giobbi will be joined by many of the one-of-a-kind and not-to-miss B2B sets. NYC introduces elrow city hosted by Repopulate Mars and so much more for your spacecraft to explore. Get tickets now!
Dress in your own style and bring your smiles!
It's a marvelous night for a Moon dance!
Be your own Rocketman!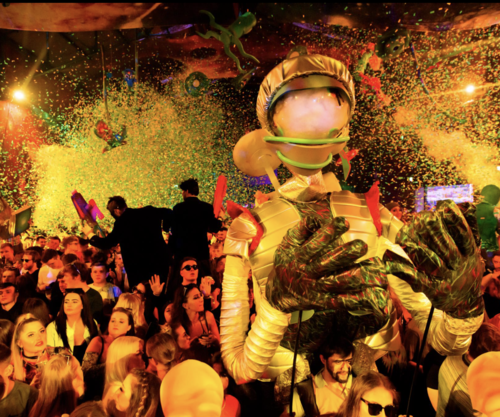 At elrow, no one is alienated!