Wanna Hang With Your Diva Friends? Charter A Yacht For Your Next Luxury Girl Group Vacay!
By
The DivaGals
| July 20, 2023 |
Travel
With the romance of the open sea and the adventure of charting your own course, a private yacht vacation is the ultimate escape from the mundane and the perfect way to reconnect with yourself, your family, and the ones you love within beautiful scenes on the seas of the Dalmatian Coast. But, you may be asking yourself, "Where in the world do I begin?"
Well, Divas, grab your water bottle and dive into this adventure!
Let's start with some basic overviews: Croatian Yacht 101.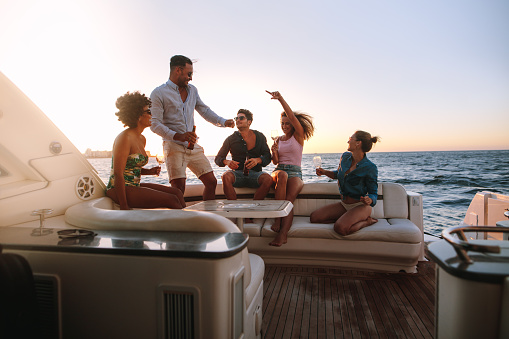 Motor & Mega Yachts
Let's keep it cozy! With a fully-crewed vessel, between three to five cabins, and an array of entertainment options, you'll savor every moment of your journey. These are perfect for full comfort and stress-free vacations.
Mini Cruiser Yachts
Ready for the family reunion, or a getaway with friends? Mini cruiser yachts (sometimes called superyachts) are a great option for larger groups. Complete with multiple decks, bars, 10-18 cabins and an array of entertainment options, these are the vessels that provide outstanding value for your next Croatian getaway.
Gulets ('Goo-lays')
The pinnacle of luxury and style can be found aboard a chartered gullet, with its timeless blend of motor and sail power. These classic wooden vessels offer unmatched levels of comfort with an experienced crew of a captain, sailor, cook and hostess tending to your every need.
Catamarans
With typically three to five cabins, catamarans are best for families or small groups of couples traveling together that are seeking a laidback itinerary. It's the kind of yacht for people who are curious about sailing, but are also up for a bit of adventure. Their cabin size and the abundance of amenities aren't as much of a priority as their ability to explore nature, sail and discover hidden bays perfect for snorkeling or kayaking.
If you are looking for a yacht adventure in the Caribbean check out Soca Caribbean Yacht Charters. It's run by Sheila Ruffin who is on a mission to diversify the yacht industry.  Prices start at approximately $50,000 per day.
Photo: Soca Yacht Charters